Car Maintenance Made Easy at Our Mopar Service Center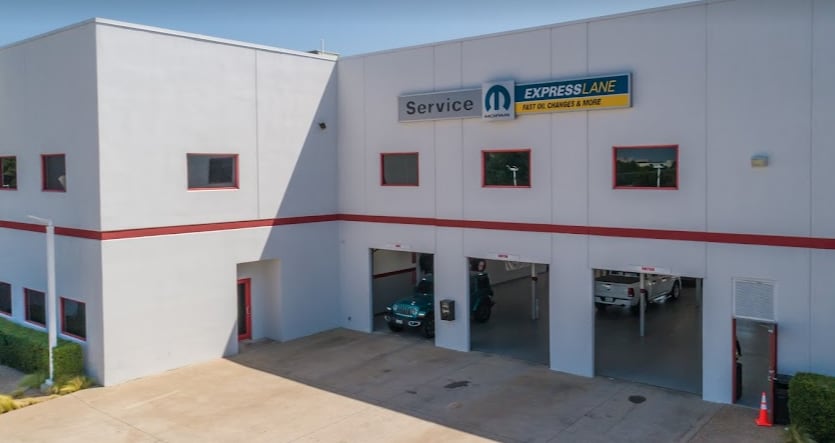 Our factory-certified technicians have the expertise to service or repair any part of your car. We can handle routine services like an oil change or more complex repairs to systems like your engine, drive train, or cooling system. Our services include:
Oil Changes
Huffines CJDR Plano uses only original equipment manufacturer parts and oil for our oil changes. You can conveniently schedule your oil change online or stop by our Express Lane at any time for immediate attention. Our technicians can change your oil in 60 minutes or less with an appointment.
Tire Rotations
We can rotate your tires while changing your oil without adding time to your service visit. Rotating your tires helps prolong your tires' life by evenly spreading the wear. We suggest rotating your tires during every odd oil change appointment, usually around 6,000 miles. You can check your owner's manual for the exact interval.
Brake Inspections and Service
We recommend having your brake system inspected every 10,000 miles. At the very least, brake pads wear out and eventually need replacement. In addition, your brake system has many complex moving parts that also wear out or get damaged through normal operations. Our technicians will inspect your brake pads for wear and examine the entire system to ensure your brakes operate correctly and safely.
Battery Service and Replacement
Our technicians will test your battery for proper operation. Your battery must hold a charge and provide electricity to start and operate your vehicle. If your battery shows signs of failure, we'll recommend you replace it with a new one. We will have the battery you need in stock in most cases and can replace it immediately.
General Maintenance
Our technicians can provide all the required general maintenance on your vehicle. These maintenance services include spark plug replacement, air conditioning services, fluid level corrections, electrical system repairs, and air and fuel filter replacement. If you believe you have a problem with one of these systems, bring your car into our service center and let one of our trained technicians run the appropriate diagnostics.
Why You Should Choose Huffines CJDR Plano
We want every customer to leave our service center 100% satisfied with the experience, from check-in to inspection, and the quality of service provided through check-out. So, when you bring your car to us for service, we'll take care of it like it was our vehicle. We'll use only OEM parts and repair practices, so you can drive away knowing that your car will run in tip-top condition.
Don't hesitate if you believe you need service on your Chrysler, Jeep, Dodge, or Ram vehicle or want an inspection to ensure that all systems operate as they should. You can conveniently schedule service online or stop by our Express Lane today. Additionally, if you have questions regarding regular maintenance, please feel free to contact us or visit our service center located near Dallas at your convenience.